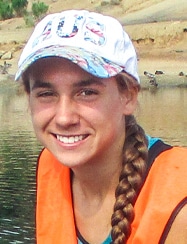 Shayla, who's in the DB National Leadership Council (NLC) 2023B class, wrote this letter to her class leaders and NLC staff following her service trip near San Diego, CA, last summer.
Prior to this trip, I was feeling very disconnected to Christian Science and I wasn't sure if I wanted to continue with it. I didn't feel like prayer worked for me and I thought it was maybe overused.
When I was with people in the group, especially a couple strong-minded students of CS, I felt a spark of interest in the religion ignite. This was further helped by the half hour we spend studying the lesson each morning. I was able to dissect the Bible verses and understand their connection to… Science and Health…
Another big breaking point on the trip was when we went to the Wednesday night testimony meeting. There was one testimony in particular that really stood out to me and helped me see more clearly our relationship with God.
All of these experiences made me want to do things differently when I get home. I hope to change my habits and do more study of CS. The first thing is that I will make a conscious effort to pray about anything that disrupts my thought or doesn't belong. To help with that, I want to make a point of reading the Lesson and Science and Health regularly, at least once a week other than Sunday. I would also like to start tuning in to the Wednesday testimony meetings, perhaps from The Mother Church. This is definitely my biggest takeaway from the trip and I am so grateful for the change of heart.
Transformation happens all the time for teens in NLC. You can be a part of this with your gift today.
---
About DiscoveryBound National Leadership Council (NLC)
The National Leadership Council is a four-year program for Christian Science high school students, focusing on spiritual growth, leadership skills and cultivating a service approach to life.